One of the biggest worries some of my customers have is that they don't consider themselves creative & they don't know what to paint & they don't think they're going to be very good &... &... & I see a huge bundle of insecurity.
Firstly, I TOTALLY understand the worry. I first started pottery painting with a friend of mine who was an art student who produced all sorts of wonders... whilst I could just about manage a splodgy blue & yellow cookie jar... it wasn't very good (although I still have it & use it!).
It made me really conscious about ensuring TPT is a space that both provides visual inspiration & lots of tools to help those painters who are less secure in their own vision of what they want to create.
Here are 5 ways that TPT can help...
1) Try one of our speciality glazes
Not going to lie, these are amazeballs. Stunning colours & effects and ridiculously easy to use. They contain tiny bits of glass that melt in the kiln and flow when heated. All you need is three even coats all over the piece and the Kiln Magic does the hard work for you.
Speciality Glaze
2) Try using a silkscreen
Silkscreens are ready-made images that act a bit like a posh stencil. These take a little bit more planning, and you need to be prepared to get your finger a bit mucky to make up the paste, but these are also surprisingly easy to use for the impressive final effect they achieve.
silkscreen
3) Normal stencils
We have a selection in the studio, or you can bring your own. You can use these to pencil an outline, or sponge paint straight on.
Stencil
4) Clay Carbon Paper
Like tracing paper for ceramics. Got a favourite team? A favourite cartoon? A favourite quote in a font? Just bring a clear image of what you want on your piece and the CCP can help you transfer it on. Lemon squeezy.
clay carbon paper
5) Visit TPT's Pinterest Board
https://www.pinterest.com.au/thepaintedteapot/boards/
As well as all the ideas I've saved on here, it's a veritable springboard for finding squillions of other Paint Your Own Pottery (PYOP) ideas.
Full instruction is always given during your TPT session & help is at hand as you learn the ropes. You'll soon find that your confidence to try new techniques grows & there'll be no stopping you...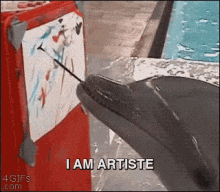 Tory x